Many people don't realize police can charge them with a drunk driving offense even if their blood alcohol content is below the 0.08 percent level required for a positive breath test. An officer can charge you with Operating While Visibly Impaired in Michigan if any level of alcohol appears to affect your driving, posing a danger.
Michigan makes a distinction between intoxicated driving and impaired driving. The official name for impaired driving is Operating While Visibly Impaired or OWVI. This is a lesser offense than DUI/OWI. However, you should not take it lightly. The potential penalties may affect your career and future, even for a first-time offense. You should talk to an experienced criminal defense lawyer as soon as possible.
George Law is Lead Counsel Verified and recognized as certified experts in DUI defense. We have the knowledge, experience, and expertise to keep you out of jail and protect your future. If you've been arrested in Michigan for drunk driving or need help restoring your driver's license, call our DUI attorneys for a free consultation.
How Do Police Show You Are Operating While Visibly Impaired in Michigan?
OWVI cases are difficult to prove in Michigan. There is a highly subjective element. A police officer may see you veering across the road and give you a breath test. You test under 0.08 BAC. However, the police officer charges you with OWVI because of your erratic driving, an observable danger. It's difficult for police to prove you veered across the road because of alcohol as opposed to a lapse in attention or another distraction. An effective Michigan OWVI lawyer will put pressure on the prosecution to prove alcohol caused your hazardous driving. We can also question whether the driving was an observable danger in the first place.
It's confusing to be charged with an offense if your blood alcohol content was below the legal drunk driving limit. You may know you were not intoxicated but police charged you with an offense on the drunk driving spectrum anyway. The courts often hit OWVI drivers with serious criminal and administrative penalties.
Michigan OWVI Penalties
People convicted of Operating While Visibly Impaired (OWVI) in Michigan can face the following penalties:
A jail sentence of up to 93 days.
A fine of up to $300
Up to 360 hours of community service.
Four points on your driving record
The restriction of your driver's license for up to 90 days, or 180 days if a controlled substance is detected.
Here's a more detailed breakdown of Michigan DUI/OWI offenses, classifications, and penalties.
The courts often give restricted driver's licenses to people they convict of OWVI in Michigan. This means you can still drive with restricted driving privileges. Under the Michigan Vehicle Code Section 257.319 a restricted license limits where you can drive. You may be able to drive from home, work, or a court-ordered alcohol or drug treatment center, school, or the probation office, Some restricted licenses allow you to see certain family members and access medical treatment.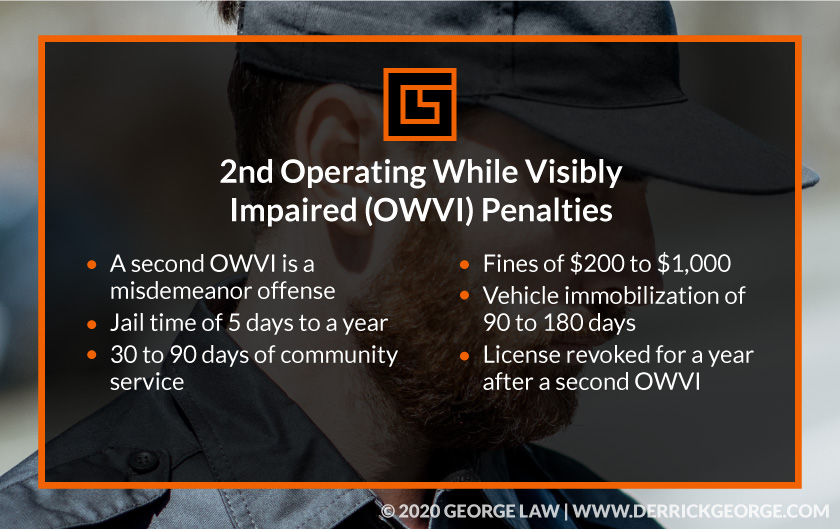 OWVI Michigan Expungement
Because the state recognizes that people make mistakes, there is now an expungement process for first time drunk driving offenders, including OWVI offenses. As part of the states Clean Slate initiation, Michigan's drunk driving laws have been modified to allow for those convicted of first offenses to submit an application to have it expunged from their criminal records, beginning on February 19th of 2022.
There are specific qualifications and stipulations for this process however, and an individual must meet these in order to be able to be eligible. Even for individuals who are eligible, the process for first offense OWVI expungement can be complex, requiring significant documentation as well as following strict procedures in order to successfully have their record expunged. Working with an experienced criminal defense attorney specializing in expungements is strongly recommended in order to have the best chances for success.
What is the legal BAC limit?
In the United States, the federal limit to legally operate a motorized vehicle is 0.08%. This percentage is based on someone's blood alcohol content (BAC). Most states follow this federal guideline including the state of Michigan where the legal BAC limit for anyone 21 or older is also 0.08%. Michigan also has laws that enhance penalties for anyone driving with a BAC of 0.17% or greater which is classified as being "Super Drunk."
What is the BAC limit for someone under 21?
In the State of Michigan, it's illegal for anyone under the age of 21 to operate a motorized vehicle with a bodily alcohol content (BAC) of 0.02% or greater. If a juvenile or minor is caught driving with a BAC above this limit, they may be charged with underage DUI. This charge carries with it harsh penalties, including community service, fines and potential jail time.
In certain circumstances, judges may even charge individuals as adults in order to make an example of their case. For cases where the BAC level has reached or exceeded 0.08%, the judges discretion is largely removed and the juvenile offender will face harsher mandatory sentencing per Michigan statutes. This includes jail time of up to 93 days, license suspension, increased community service hours and enrollment in substance abuse programs.
What is the Penalty for OWVI With a Young Passenger?
The penalties for OWVI and OWI increase if you have a passenger under 16 in your car. Transporting a child while under the influence of alcohol or drugs is a child endangerment offense. The penalties for first offenses include a fine of up to $1,000 and one year in jail.
Second offenses that occur within seven years carry up to five years in jail, as well as a fine of up to $5,000. Those convicted of a second child endangerment charge will likely lose their driver's license, face probation, community service, and possibly face other consequences.
What is the Penalty for a Second OWVI in Michigan?
A second OWVI is a misdemeanor offense. Drivers who commit a second OWVI or OWI within the last seven years face jail time of 5 days to a year. A court may order them to carry out 30 to 90 days of community service. In addition to increased jail time, fines are also substantially raised from first offense OWVI in Michigan – ranging from – $200 to $1,000.
On top of increased fines and jail time, a conviction can result in vehicle forfeiture. Even if this doesn't occur, the judge can still order the car to be immobilized for 90 to 180 days. License forfeiture typically accompanies a second OWVI conviction, requiring the completion of a substance abuse program before it can be restored. You can apply for a restricted license after 45 days of renovation.
​​Can the Courts Reduce a First DUI Offense in Michigan to OWVI?
The courts sometimes reduce a first DUI or OWI to impaired driving by a plea bargain. Although OWVI carries the same potential maximum penalties as OWI (Operating While Intoxicated), the courts are usually more lenient in their sentencing. Generally speaking, those convicted of an OWVI offense normally will not face a hard license suspension that would prevent them from driving at all.
Instead, drivers will lose their license for up to 90 days, with the option of a restricted license for essential trips under certain circumstances. In addition to this, the fines imposed by the court are typically lower than those given to OWI offenders. A skilled Michigan drunk driving lawyer will often be able to reduce an OWI/DUI charge to an OWVI. On top of potentially lower fines and reduced jail time, a plea bargain to OWVI can give offenders the opportunity to receive a new picture license with full driving privileges after a 90-day restriction.
The reduction of an OWI to an OWVI is usually only a realistic option for first-time offenders.
Talk to a Michigan OWVI Attorney As Soon as Possible
At George Law, we represent many clients who face DUI/OWI and OWVI charges. We fight these charges hard and look for issues in your case that can result in a not guilty verdict or prosecutors dropping the case. We can also make a case to reduce a DUI/OWI charge to Operating While Visibly Impaired which carries a lesser sentence in Michigan.
Although the state is tough on drunk drivers, a good criminal defense lawyer can help you avoid a damaging drunk driving conviction. Find out more about drunk driving charges in Michigan on our website. We represent clients in the Detroit area and across Michigan from our offices in Royal Oak. If you are facing OWVI charges, please contact our office today for a consultation.